"Nuclear weapons are unworthy of civilization."
Senator Alan Cranston, Founder, Global Security Institute
The Global Security Institute is dedicated to strengthening international peace and security based on co-operation, diplomacy, shared interests, the rule of law and universal values.
Our efforts are guided by the skills and commitment of our team of former heads of state, distinguished diplomats and politicians, celebrities, religious leaders, Nobel Peace Laureates, disarmament and legal experts, and concerned informed citizens.
Our focus is on controlling and eliminating humanity's greatest threat – nuclear weapons.
Global Security Institute organized a delegation of three former Heads of State and four Nobel Peace Prize laureates to meet with the Prime Minister and other senior officials in Bahrain.(2:04) (Read more.)
The Basel Peace Office, Mayors for Peace, the World Future Council and GSI program Parliamentarians for Nuclear Non-proliferation and Disarmament have issued a joint appeal from American and European Mayors, parliamentarians, policy experts and civil...
A groundbreaking article was published by Newsweek today, authored by Ambassador Thomas Graham, Jr., a member of GGI's Board of Directors and Co-Chair of the Nonpartisan Security group, and GSI President Jonathan Granoff, on the ramifications of the U.S....
Parliamentarians for Nuclear Nonproliferation and Disarmament Co-President, Senator Ed Markey, and Congressman Ted Lieu, re-introduced legislation today to curtail Presidential power over the use of nuclear weapons. We are very pleased to share this...
From November 1-7, 2018, The Hon. Douglas Roche, O.C., a long-time adviser to the Global Security Institute, and GSI President Jonathan Granoff met with other leading faith and disarmament leaders at the Parliament of the World's Religions in Toronto,...
Published on The Parliament of the World's Religions, November 29, 2018.The following statement, developed by Jonathan Granoff of the Global Security Institute, with the supportive consultations of our esteemed Parliament presenters former Canadian Prime...
Standing at the edge of the polar ice caps, it is clear that the destruction of our Earth by nuclear weapons and its degradation by the man-made factors of climate change are inextricably linked. Join us as GSI President Jonathan Granoff and Angaangaq...
On September 27, 2018, the Kingdom of Bahrain and Global Security Institute hosted the 'Bahrain Visions Forum: Shared Vision Towards a Successful, Sustainable Future' at the United Nations in New York, on the side of the UN General Assembly 73rd...
TEXT: SPEECH BY FORMER PRESIDENT FW DE KLERKAT THE NOBEL PEACE LAUREATE LECTURESMANAMA, BAHRAIN 13 SEPTEMBER 2018 MULTILCULTURALISM AND GLOBAL POLITICAL CHALLENGES  Your Royal Highnesses, Fellow Nobel Peace Laureates, Your Excellencies, ladies and...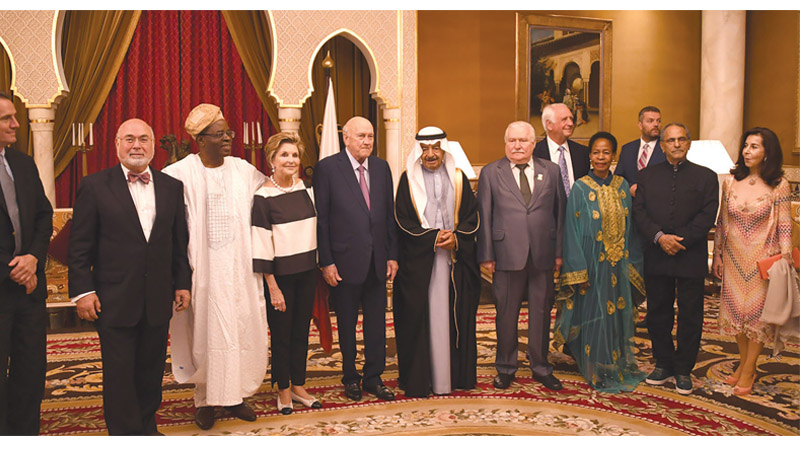 On September 12, 2018, a delegation organized by Global Security Institute arrived in Bahrain for meetings with the Prime Minister and other high level officials regarding efforts for peace and stability in the region. His Royal Highness, the Prime...
'Imagine if nuclear weapons were used on the Korean Peninsula, either by the DPRK or the United States. The devastation to humans, infrastructure and the environment would likely be catastrophic even if it were only one or two nukes detonated,' said Alyn...
The Middle Powers Initiative builds bridges between nuclear-weapon states and non-nuclear States in order to facilitate nuclear disarmament.
find out more
The Nonpartisan Security Group (formerly Bipartisan Security Group) is dedicated to providing reliable information and analysis of global security issues to Members of Congress and their staff.
find out more
Parliamentarians for Nuclear Non-proliferation and Disarmament (PNND) is engaging legislators worldwide in critical steps towards nuclear disarmament.
find out more
SUPPORT GSI
Help us build a nuclear weapons free world. Your contributions provide vital support to Global Security Institute and our programs.

Subscribe to receive important updates and news from Global Security Institute.
The Inspiration

Jane Goodall, Mahatma Gandhi, religions of the world — all have changed our view of the world. Join us as we share our inspirations.