by James Goodby and Steven Pifer
April 24, 2015
At the Nonproliferation Treaty Review Conference later this month at the United Nations, the five nuclear weapon states recognized by the Treaty—the United States, Russia, Britain, France, and China—will come in for critical scrutiny from an international community that regards current approaches to nuclear arms as inadequate.
Just take Moscow's aggression toward Ukraine, which has introduced dramatic new tensions into relations between the West and Russia. The crisis should also remind us, however, of the dangers posed by nuclear weapons and of our common interest in reducing and eliminating that threat.
Continue reading this article on Fox News.
Ambassador James Goodby is a member of GSI's Bipartisan Security Group and an Annenberg Distinguished Fellow at the Hoover Institution. Goodby formerly served as Ambassador to Finland, and is the co-author of a book on nuclear non-proliferation, "The War That Must Never be Fought: Resolving the Nuclear Dilemma," (Hoover, June 2015). Steven Pifer is director of the Arms Control and Non-Proliferation Initiative at the Brookings Institution, where he also works on Ukraine and Russia questions. He is co-author of "The Opportunity: Next Steps in Reducing Nuclear Arms." A retired Foreign Service officer, his more than twenty-five years with the State Department included assignments as deputy assistant secretary of state with responsibilities for Russia and Ukraine (2001–2004), ambassador to Ukraine (1998–2000), and special assistant to the president and senior director for Russia, Ukraine, and Eurasia on the National Security Council (1996–1997). He also served in Warsaw, Geneva, Moscow, and London.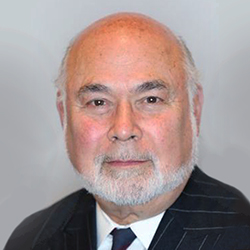 Jonathan Granoff is the President of the Global Security Institute, a representative to United Nations of the World Summits of Nobel Peace Laureates, a former Adjunct Professor of International Law at Widener University School of Law, and Senior Advisor to the Committee on National Security American Bar Association International Law Section.