On September 12, 2018, a delegation organized by Global Security Institute arrived in Bahrain for meetings with the Prime Minister and other high level officials regarding efforts for peace and stability in the region.
His Royal Highness, the Prime Minister received several Nobel Peace Prize laureates, including former Heads of State. The delegation included South African President Frederik de Klerk, who along with Nelson Mandela and the African National Congress ended apartheid, Lech Walesa, who led the Solidarity Movement that challenged the domination of the Soviet Union and was an inspiration to movements in many nations for democracy, and José Ramos-Horta who led the freedom movement in East Timor by rallying world support and advocating nonviolent social change, later serving as President of the new democracy. They were joined by Nobel Peace Laureate, Kailash Satyarthi, an Indian child welfare activist of over 30 years who has focused on justice for children and particularly ending child slavery and Professor Anna Tibaijuka, the former Head of UN-Habitat and former Tanzanian minister, and President of the Global Security Institute, Jonathan Granoff.
The event was organized by the Global Security Institute (GSI), working in close cooperation with the Cabinet of the His Royal Highness (HRH) Prime Minister Prince Khalifa bin Salman Al Khalifa, with support from the President of the Prime Minister's Cabinet, Shaikh Hussam bin Isa Al Khalifa.
Granoff expressed his belief that the courage, wisdom, and successes of the Laureates could be of value and inspiration and that their witness to the successes of Bahrain and challenges it faces could help inform significant others. The delegation received extremely positive media coverage in Bahrain and the region.
During several private meetings and a State Dinner with the Prime Minister and his cabinet, public presentations, and meetings with cultural, community and national leaders the laureates expressed their views gained from the crucible of experience. HRH Prime Minister Prince Khalifa bin Salman Al Kalifa emphasized the importance of addressing root causes of social conflict; he was congratulated on the successful economic and social progress of Bahrain.
Jose Ramos-Horta highlighted the importance of leadership in bringing all sectors and diverse communities into inclusion and leading with humility, compassion and wisdom. He, as did the other Laureates, expressed their support for the successes of Bahrain in its developments in diversification of its economy, enormous expansion of opportunities in education, delivery of medical and other social services, and especially religious tolerance. President Walesa attended a Catholic Church and noted that within a square mile were Hindu temples, Shia and Sunni Islam mosques, a synagogue and other churches. This dynamic multicultural society is unique in the region.
The enormous progress that Bahrain has achieved in the last decades in improving the quality of life to its citizens and nurturing a multicultural tolerant society in a region burdened with ethnic, religious, and class conflicts was lauded by the Laureates. Of course there are tensions, disputes, mistakes, imperfections, inconsistencies, and challenges in Bahrain. It sits in a region where the rule of law, impartial social justice, and ethnic harmony need are sorely in need of improvement. In fact, all too close by are the tragedies of war, civil strife, dangerous disputes between and amongst states and long standing grievances not being adequately addressed. What is most important is to view the trajectory of progress and the values that the leaders want to follow. The Nobel Peace Laureates came to support the best of those values and to express their views on matters of current importance. None were unaware of the need for healing arising from the 2011 conflagration along the Sunni and Shia divide in Bahrain and all were hopeful that continued social progress will provide an avenue for that healing.
"It is not often that individuals so recognized for peace in the world find time to come together to share their experiences in the Arab world. So, it was great for Bahrainis to be exposed to ideas on making the world a better place with respect to peace," said Granoff. "I personally hope that the Nobel Laureates would push further on the need for a peaceful Gulf, even if the major powers and the United Nations are currently not doing enough to ensure this. There is no conflict that cannot be subjected to dialogue. Facilitation of such may not appear easy, but formal and informal efforts at facilitation/mediation could help when a positive outcome was not anticipated. It may be difficult to have the immediate resolution or improved management. But striving to help must continue with some vigor."
More:
https://www.newsofbahrain.com/bahrain/46967.html
https://www.newsofbahrain.com/bahrain/46934.html
https://www.gdnonline.com/Details/390853/NOBLE-MISSION-Premier-urges-world-to-unite-for-peaceful-development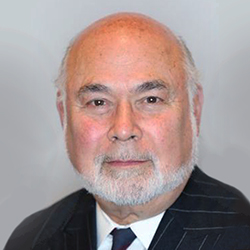 Jonathan Granoff is the President of the Global Security Institute, a representative to United Nations of the World Summits of Nobel Peace Laureates, a former Adjunct Professor of International Law at Widener University School of Law, and Senior Advisor to the Committee on National Security American Bar Association International Law Section.