On 26 February 2021, Voices for a World Free of Nuclear Weapons commemorated the life and legacy of the Honorable George P. Shultz, Secretary of State of the United States of America from 1982 to 1989. Known for his instrumental role in the Reykjavik Summit and the negotiations between former President Reagan and Soviet leader Mikhael Gorbachev, where talk of a world without nuclear weapons was brought up for the first time, Secretary Shultz was honored by his friends and colleagues Bishop William Swing, Ambassador Thomas Graham, Ambassador James Goodby and Jonathan Granoff in this commemoration. It was moderated by Kehkashan Basu, the first ever recipient of the Voices Gorbachev-Shultz Legacy Youth Award. This award was established by Secretary Shultz as a Founding Member of Voices for a World Free of Nuclear Weapons, on the 75th anniversary of the Hiroshima and Nagasaki bombings.
Bishop Swing spoke of his personal relationship with Secretary Shultz, and his support for the founding of the United Religions Initiative (URI). Ambassadors Graham and Goodby spoke of their diplomatic careers in public service, and the legacy of Secretary Shultz in building trust and global partnership to advance human security. The event was followed by a round of robust questions from both youth and senior leaders in attendance.
Mr. Schultz and Mr. Granoff are Founding Members of Voices for a Nuclear Weapons Free World.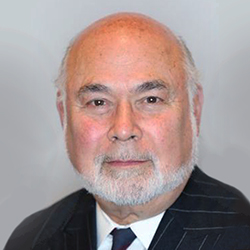 Jonathan Granoff is the President of the Global Security Institute, a representative to United Nations of the World Summits of Nobel Peace Laureates, a former Adjunct Professor of International Law at Widener University School of Law, and Senior Advisor to the Committee on National Security American Bar Association International Law Section.