A film inspired by the commemorations of the 75th anniversary of Hiroshima and Nagasaki. Featuring Mikhail Gorbachev, former President of the Soviet Union, and George Schultz, former Secretary of State of the United States. Intro by Jonathan Granoff. "…a nuclear war cannot be won and must never be fought."
– Taken from the joint U.S.-Soviet statement on the 1985 Geneva Summit
The existential threat of nuclear annihilation remains over our heads today.
"The Bomb: Yesterday, Today, and Tomorrow" is a one hour film sponsored by the four most significant and largest interfaith/intercultural organizations in the world: United Religions Initiative, Parliament of the World's Religions, Religions for Peace, Charter of Compassion. Sponsored by Voice for a Nuclear Free World. GSI is pleased that its Advisory Board member Mikhail Gorbachev and two members of its project the Nonpartisan Security Group, Ambassadors Thomas Graham and James Goodby, are in this inspiring movie.
Presenters in the film include:
Azza Karam, Secretary General Religions for Peace;
Audrey Kitagawa Chair Parliament of the World's Religions;
Victor Kazanjian Executive Director United Religions Initiative;
Marilyn Turkovich, Executive Director Charter for Compassion;
Jonathan. Granoff, President Global Security Institute;
Bishop William E. Swing Founder and President United Religions Initiative;
Ambassador Thomas Graham; Chair Nonpartisan Security Group
Swamini Adityananda Saraswati; , Ambassador Mussie Haillu;
Kehkashan Basu Founder-President Green Hope Foundation;
Beatrice Fihn, Executive Director Nobel Peace Laureate International Campaign to Abolish Nuclear Weapons (ICAN); Senator Sam Nunn, Leona Morgan, Coordinator with the Eastern Navajo Diné Against Uranium Mining; Lassina Zerbo, Executive Secretary of the Comprehensive Nuclear-Test-Ban Treaty Organization;
Mohamed ElBaradei, Nobel Peace Laureate and former Director General of the International Atomic Energy Agency and Nobel Laureate;
Secretary George Shultz,
President Mikhail Gorbachev,
Mayor of Hiroshima, Matsui Kazumi,
Mayor of Nagasaki, Taue Tomihisa and others.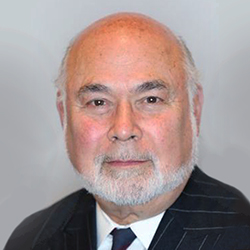 Jonathan Granoff is the President of the Global Security Institute, a representative to United Nations of the World Summits of Nobel Peace Laureates, a former Adjunct Professor of International Law at Widener University School of Law, and Senior Advisor to the Committee on National Security American Bar Association International Law Section.