Policy roundtable event report
By Katherine Prizeman
April 15, 2010
On April 15, 2010, the Global Security Institute and the EastWest Institute co-sponsored a policy roundtable for diplomats, NGOs, and private sector associates on strengthening the global regime to combat biological weapon threats. The panel featured international law expert Barry Kellman of the International Security and Biopolicy Institute. Dr. Kellman, a member of GSI's Washington-based Bipartisan Security Group, provided the attendees a clear overview of the current threats of biological weapons and outlined an ideal and practicable work plan for the upcoming 7th Biological Weapons Convention Review Conference set to take place at the end of 2011. Professor Kellman posed the very important question, "How can we begin a process of discussion with diplomats internationally to frame this [biological weapons] issue in a way such that the [Review Conference] process can be optimal?"
Biothreats are inherently international in nature; no disease recognizes national boundaries. There exists, he argued, a disturbing lack of global preparedness and prevention mechanisms, noting that he has, on numerous occasions, carried a pill bottle full of white powder sugar on aircrafts without notice by airport security. "No one has so much as asked me about it," referring to the pill bottle full of what could have easily been weaponized anthrax, a small bottle of which if, moved swiftly, discretely, and disseminated correctly, could easily kill between a quarter and a half million innocent people.
| | |
| --- | --- |
| | |
| | Dr. Kellman holds up a bottle of white powder sugar, which should be suspected by security officials of anthrax, but is not. |
| | |
In order to build the international architecture to combat both potential and realized bioattacks, Dr. Kellman advocated the involvement of all levels of governance from civil society, law enforcement, and governments. It must be a coordinated and cooperative response if the world community is to adequately protect against and respond to a biological weapon attack as well as implement appropriate detection systems.
Professor Kellman's work plan for the RevCon was divided into four topics—global preparedness, biocriminalization, biosurveillance, and promotion of secure bioscience. Dr. Kellman asserted, "There is no such thing as bio-disarmament. It is not a concept…we will never, in the foreseeable future, be at a time when there are zero biothreats." Therefore, Dr. Kellman set forth the policies of the Global Health Security Action Group Initiative (GHSAG), which advocates a global architecture of stockpiled medical countermeasures, rapid distribution networks, and organized local dispensation capabilities. Only through such a robust global regime will populations be able to deter the truly catastrophic consequences of a bioattack.
Special reference was made to the role of the private sector and the ability of corporations and businesses to take part in the logistical organization of responding to bioattacks, specifically, but not limited to, the airline industry and pharmaceutical companies. Production of medical countermeasures and the necessary biotechnology depends heavily on the output of pharmaceutical companies. Similarly, worldwide distribution of stockpiled medical countermeasures requires safe and efficient transport, a task already well within the capabilities of companies such as FedEx.
Another key component of an effective regime is the criminalization of bioweapons production and educating and strengthening law enforcement. Dr. Kellman explained, "One thing is fundamental—a [biological weapon attack] is a crime, whoever does it…a state actor, a terrorist, a lunatic. It is a crime. This is our most fundamental, long-standing norm."
Dr. Kellman reached the conclusion that the development of global policies for countering biothreats is dually feasible and necessary. Despite logistical and legal issues, global preparedness cannot be disregarded as too complex, as the consequences of an attack would be grave for the entire international community. Dr. Kellman poignantly concluded, "The steps we need to take to deal with the bio-threat have multiple benefits. We can accomplish a lot for humanity…benefits for public health, benefits for biological science, benefits for economic development, and benefits for international relations. There is a good news story. We can make the world a better place to live in."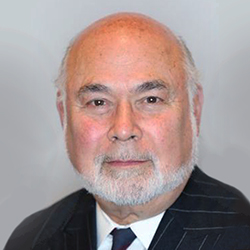 Jonathan Granoff is the President of the Global Security Institute, a representative to United Nations of the World Summits of Nobel Peace Laureates, a former Adjunct Professor of International Law at Widener University School of Law, and Senior Advisor to the Committee on National Security American Bar Association International Law Section.