GSI Event Report


Contributors: John Harrington, Esq, and Laura McGrath Moulton
October 17, 2001

UNITED NATIONS — Delivering a clarion call for nuclear disarmament, former US Secretary of Defense Robert S. McNamara was the focal point of back-to-back sessions at the United Nations on October 17, 2001, including a high level luncheon for key ambassadors and a public presentation before an overflow crowd at the Dag Hammarskjöld Library Auditorium.

Global Security Institute President Jonathan Granoff, who introduced both events, noted that Secretary McNamara's words of experience from the Cold War were especially relevant as the world faces another "crisis of huge proportion."

"Wisdom only grows from the crucible of experience, and there are few people on the planet who have as intensely gone through that crucicble as Secretary McNamara," Mr. Granoff said.Calling the attacks of September 11 "a wake-up call for all of us," Mr. Granoff said that the events of that day were "an exclamation mark to say the Cold War is over. The good news is that borders mean less; the bad news is that borders mean less. None should doubt that this is the time to strengthen co-operative security, to strengthen the rule of law, to end the threats posed by these huge arsenals. The sense of emergency of this 911 call on the issue of nuclear weapons has not struck home yet."

Part I: Luncheon with Ambassadors

The current United States and NATO nuclear policy is "absurdly dangerous" Mr. McNamara told some forty ambassadors, dignitaries and representatives from more than twenty countries at the luncheon. The event was hosted by the San Francisco-based Global Security Institute and co-sponsored by the UN Department of Disarmament Affairs, and began with remarks by Under-Secretary-General for Disarmament Affairs Jayantha Dhanapala.

Although Mr. McNamara praised recent pledges by President Bush to reduce the U.S. nuclear arsenal from its current 7,500 warheads, he said that even an exchange between arsenals reduced to 1,500 warheads each would be catastrophic. Furthermore, he said, the combination of launch-on-warning policy and human error make an inadvertent nuclear war a very real possibility as long as the weapons exist in their current deployment.

Mr. McNamara described the planned response of the United States government in the case of a detected launch of nuclear weapons against the United States. First, he said, the commander of the nuclear forces (who must always be "within three rings of a telephone") would be informed. He or she must first decide whether the warning was reliable.

"Russia has received many unreliable warnings. We [the United States] receive many unreliable warnings," Mr. McNamara said. "You've got to decide whether to launch or not to launch" within only a few minutes.

The commander then makes a recommendation to the president, Mr. McNamara said. "And then the president is allowed maybe five minutes to think what the hell to do and whom to consult with. The American people? No way. The Congress? No way. The Cabinet? No way. Maybe possibly the Secretary of Defense and the Chairman of the Joint Chiefs and then he transfers his decision with the codes from that football [the President's brief case containing nuclear weapon launch codes] and they're launched."

Mr. McNamara blasted this situation and the public ignorance that he believes allows it to continue. "Now that's what we've gone through for 40 years. And that's where we are today. I think it is absolutely insane and I don't believe any of your people or any of our people who have good judgment would tolerate it if they knew it. They don't know it."

A longtime advocate of the total elimination of nuclear weapons through verifiable treaty regimes, Mr. McNamara criticized U.S. plans for a ballistic missile defense system on two fronts. First, he said that deployment of such a system would threaten "strategic stability" by undermining deterrence, a doctrine that Mr. McNamara was instrumental in developing during his tenure as Secretary of Defense.

"Strategic stability does not require nuclear parity," Mr. McNamara said. "At the time of the Cuban Missile Crisis, October '62, we had 5,500 strategic offensive warheads. We believed the Soviets had 350." However, "stability existed, because we did not believe we could launch our 5,500 against their 350 and destroy so many of them that so few would be left that they couldn't inflict unacceptable damage. This is absolutely fundamental to security."

Secondly, Mr. McNamara said, deployment of an elaborate ballistic missile defense system would be a clear indication of "our determination to maintain large offensive nuclear forces indefinitely."

Because this intention is a "direct violation" of Article VI of the Nuclear Non-Proliferation Treaty, which binds the five declared nuclear weapons states to eventual elimination of nuclear weapons, it will further undermine the nonproliferation regime, possibly leading to its collapse.

"And if it collapses, we're not going to then have three aircraft bombs killing 7,000 people," Mr. McNamara said, referring to the September 11 attacks on the World Trade Center and Pentagon. "We're going to have three nuclear bombs killing 7 million people. Very, very quickly after the collapse of the nonproliferation regime, there would be proliferation," the result of a "latent, pent-up demand for nuclear weapons in many, many parts of the world."

Therefore, Mr. McNamara called for the United States to work with other nations toward nuclear disarmament.

Mr. McNamara said that since the disasters of September 11 there has been "a dramatic change in U.S. foreign policy. We've shifted from a unilateral policy toward a multilateral policy, and I hope to God we stay on that basis, not for months to come but for years and decades to come."

Pakistani Ambassador Shamshad Ahmad took up that theme in the discussion that followed Mr. McNamara's remarks. He cited Albert Einstein's comment that "the fourth world war will be fought with rocks and stones."

"This . is a very meaningful message: that man has an innate tendency to fight and to use whatever he can use as a weapon," Ambassador Ahmad said. "So the best and the ideal solution is to root out the causes of conflict."

However, Ambassador Ahmad said, the United Nations is "faring no better" than Woodrow Wilson's League of Nations at this task.

Mr. McNamara concurred with Ambassador Ahmad's assessment and called for a sweeping change of the United Nation's structure to make it "an effective power in the world."

The American people "are not yet ready to cede sovereignty as they see it to the UN," Mr. McNamara said. Nevertheless, "we're going to have to move in that way, and it requires all of us to help do it."

Other participants included: Ambassador Shameem Ahsan of Bangladesh; Ambassador Mohamed Bennouna and Counsellor Mehiendine El Kadiri of Morocco; Ambassador David Boucher of Britain; Ambassador Richard Brown of the United States; Ambassador Altay Cengizer of Turkey; Ambassador Gerard Corr of Ireland; Minister Counsellor Tom Markram and Mr. John Dupreez of South Africa; Ambassador Ahmed Abul Gheit of Egypt; Mr. Wu Haitao of China; Ambassador Roberta Lajous of Mexico; Ambassador Yehuda Lancry of Israel; Counsellor Santiago Mourão of Brazil; Deputy Foreign Minister Sergey Ordzhonikidze of Russia; Minister Toshio Sano of Japan; Ambassador Pierre Schori of Sweden; Ambassador Fawzi Bin Abdul Majeed Shobokshi of Saudi Arabia; Mr. Joachim von Marschall of Germany; and Ambassador Chris Westdal of Canada.

Global Security Institute President Jonathan Granoff ended the luncheon with a final call to eliminate the arsenals which "constitute a terror under which we all live."

Part II: Public Presentation

Following the luncheon, Mr. McNamara presented a keynote address entitled "Lessons for Today from the Cuban Missile Crisis" to delegates and non-governmental organizations in the Dag Hammarskjöld Library Auditorium.

In his introductory remarks, Under-Secretary-General Dhanapala said that the thirteen days that the crisis lasted represent "the firewall that was so important for us between the crisis and the outbreak of nuclear war. We need to have this political space of time for diplomatic efforts so that the prospect of nuclear war is distanced forever. We have treaties and in a sense they also represent the firewall between crisis and Armageddon. But the only sure way to eliminate Armageddon and the use of nuclear weapons is the total elimination of nuclear weapons."

Indeed, Mr. McNamara said, the Cuban Missile Crisis "makes it quite clear that so long as we and other great powers possess large inventories of nuclear weapons, we'll face the risk of their use and the destruction of our nations."

As a major player in the October 1962 Cuban Missile Crisis, he is certainly in a position to know. Mr. McNamara's speech traced the "misinformation, misjudgment, [and] miscalculation" that led the world to the brink of nuclear war exactly thirty-nine years ago. According to McNamara, before the Soviets moved missiles to Cuba, they thought the United States planned to invade the island. They also thought they could secretly move their missiles there and make them operational before the United States would find them. Meanwhile, the United States firmly believed that the Soviets would never move their missiles out of the Soviet Union.

Leaders on both sides continued to make dangerously false assumptions after the discovery of Soviet missile installations in Cuba triggered the crisis. As the United States staged an invasion in Louisiana in response to the Soviet refusal to remove the missiles, it did not know that the Soviet Union had already placed in Cuba 162 operational nuclear weapons, including 70 intermediate-range nuclear tipped missiles to shower the cities of the eastern United States. That information was not learned until years later.

The United States also underestimated standing Soviet forces by as many as 33,000 troops and failed to fully account for the 270,000 Cuban troops ready "to fight to their death." Worse yet, the Kennedy administration, lacking accurate information about the scale of danger they faced, never imagined the kinds of decisions Fidel Castro was forced to make.

At a meeting on the crisis in 1992, Mr. McNamara asked President Castro about the nuclear weapons in Cuba. "I said, 'Mr. President, first, were you aware of the Soviet deployment of tactical nuclear warheads and the plans for their use; and secondly, what was your interpretation or expectation of the possible effect on Cuba?.

"And Castro's answer sent a chill up my spine. I can still feel it to this day. President Castro replied. 'Now, we started from the assumption that if there was an invasion of Cuba, nuclear war would erupt; we were certain of that. We'd be forced to pay the price. We would disappear.'"

"In addition to the two questions I had put to him, I asked him a third one," Mr. McNamara continued. "If you did know about the weapons, would you have recommended to Khrushchev that he use them in the face of the US invasion?" Mr. McNamara explained that President Castro not only would have made such a recommendation, but "I did recommend it," he said.

The U.S. leaders also did not realize that each of four Soviet submarines in the area carried one nuclear tipped torpedo to be used at the discretion of the commander of the submarine brigade, which would be out of contact with Moscow. The submarines were near the quarantine line, close to the U.S.S. Joseph P. Kennedy.

"My God, here is one guy out in the middle of the ocean authorized to start a nuclear war!" said Mr. McNamara. "What in the hell do you think we would have done if they had launched a nuclear weapon at the Kennedy? It defies understanding."

Mr. McNamara emphasized that the force of the crisis threatened to overwhelm capable leaders on both sides, neither of which wanted a nuclear war. "We were all in an extraordinarily tense, ambiguous, volatile situation and nobody was in control, nobody! Events were slipping out of control."

With the majority of President John F. Kennedy's cabinet in favor of an October 25 invasion, only Premier Nikita Khrushchev's October 24 decision to withdraw the weapons in return for the withdrawal of American missiles from Turkey prevented the full-scale nuclear war.

"In the end, we avoided war not because [the crisis] was well managed, but because we lucked out, absolutely lucked out, on both sides," Mr. McNamara said.

A lively question and answer period followed the speech. Mr. McNamara repeated his plea to "please, please stimulate discussion and debate" in order to bring the facts of the issue to the public and create a popular mandate for change.

In his closing remarks, Mr. Granoff offered specific suggestions for change, citing recent reports about mock terrorists penetrating security at half of the ten nuclear research and production facilities in the United States. Warning that not only states but "sub-states actors, criminal syndicates, all kinds of people" would now be seeking nuclear weapons capability, Mr. Granoff said that "it's really time to get serious about" control of fissile material.

As participants filed out, Mr. McNamara leapt to the microphone again and, quoting T.S. Eliot, left the audience with an uplifting message of perseverance and hope:

"We shall not cease from exploring
And at the end of all our exploring
Will be to arrive where we started
And know the place for the first time."

"Well, I haven't known it yet, but I'm still working on it," Mr. McNamara said.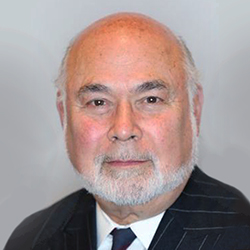 Jonathan Granoff is the President of the Global Security Institute, a representative to United Nations of the World Summits of Nobel Peace Laureates, a former Adjunct Professor of International Law at Widener University School of Law, and Senior Advisor to the Committee on National Security American Bar Association International Law Section.