A panel event on multifaith collaboration, peacemaking, and higher education
WHEN: Monday, December 2, 2013; 5:15 pm to 7:00 pm
WHERE: Sperry Room, Andover Hall, Harvard Divinity School, Cambridge, MA
WHAT: For much of history since WWII, religious conflict has plagued civilization. In the Middle East, Israeli Jews fight Muslim and Christian Arabs, while Shia and Sunni Muslims battle each other. In the West, secularists and moderate Christians and Muslims face Muslim jihadists and Christian extremists, while Hindus, Muslims, and Buddhists conflict in Pakistan, India, and Sri Lanka. Decades of violence reigned between Catholics and Protestants in Northern Ireland.
Religion is cited so frequently as the cause of conflict that it can be difficult to envision the role that faith plays in making peace.
On Monday, December 2, however, Harvard Divinity School will convene a group of practitioners and scholars to explore the ways that people of different religions can work together to end violence-and what universities can do to facilitate this process.
The two-part event will bring together leading practitioners and scholars from Harvard, the United Nations, the US government, international peace and security organizations, and multifaith initiatives.
HDS professor Diana L. Eck, director of the Pluralism Project, will moderate a public panel discussion featuring:
Martha Minow, Dean of Harvard Law School
Shaun Casey, MDiv '83, ThD '98, special advisor to U.S. Secretary of State John Kerry for faith-based community initiatives
Jocelyne Cesari, Lecturer on Islamic Studies at HDS, Research Associate at the Center for Middle Eastern Studies, and director of Harvard's Islam in the West Program
Jonathan Granoff, president of the Global Security Institute
Matthew Hodes, director of the United Nations Alliance of Civilizations.
Eck says the conversation, which will take place in the Sperry Room in Andover Hall on the HDS campus from 5:15 to 7 pm, will be a remarkable opportunity to explore religion's potential to prevent and resolve conflicts.
"People in each of the world's religious traditions have experience drawing upon their faith as they reach across lines of conflict to facilitate peace and harmonious living," she says. "I'm looking forward to moderating a discussion with a group that has such a wide range of knowledge, not only of different faiths, but also of law, government, international relations, and more."
After the panel adjourns, the participants will continue the discussion over dinner at the Dean's residence with scholars of religion, conflict resolution, and ethics from across Harvard University.
The guests, who will include J. Bryan Hehir of Harvard Kennedy School, Ali Asaniof Harvard's Faculty of Arts and Sciences, and Dr. Jamil Mahuad, former president of Ecuador and codirector of Harvard's Project on the Prevention of Global Violence, will focus on the ways in which universities can contribute to multifaith collaborations that build sustainable peace.
"As important as basic research is, institutions like Harvard can play a role in promoting peace that goes beyond pure scholarship," says Dean Hempton. "HDS is in a unique position in this regard because we not only advance academic knowledge of all of the world's major religions, but also educate leaders of faith communities. The people we educate go on to transform conflicts, and to address problems like poverty and environmental degradation that pose a challenge to peace. This event will hopefully be the first of many that leverages the position of the School to help build trust and collaborations across cultural divides."
For more information, contact Paul Massari: pmassari@hds.harvard.edu.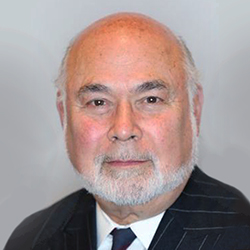 Jonathan Granoff is the President of the Global Security Institute, a representative to United Nations of the World Summits of Nobel Peace Laureates, a former Adjunct Professor of International Law at Widener University School of Law, and Senior Advisor to the Committee on National Security American Bar Association International Law Section.