On Tuesday last week (January 28), New York City Council held public hearings on two measures (draft Resolution 0976 and Initiative 1621) which if adopted would oblige the city to divest its city pension funds from the nuclear weapons industry and establish an advisory committee to develop city action to further implement its status as a nuclear-weapon-free zone.
The draft measures were introduced to the council in June 2019 by Council members Daniel Dromm, Helen Rosenthal and Ben Kallos. Since then, New York peace, climate and disarmament activists have been campaigning to build endorsement from enough council members for the adoption of these two measures.
They have been supported by GSI-sponsored project Move the Nuclear Weapons Money, a global campaign to cut nuclear weapons budgets, end investments in the nuclear weapons and fossil fuel industries, and reallocate these budgets and investments to support peace, climate and sustainable development. (Click here for the written testimony of Move the Nuclear Weapons Money). More than 20 New York peace, disarmament and climate action organizations have provided research, lobbied and advocated for the project.
'Helping to fund nuclear proliferation (whether directly via investments in weapons manufacturers, or indirectly via Citibank and other financial institutions with ties to weapons makers) runs contrary to what this city and our 300,000+ municipal workers stand for. Our teachers, fire fighters, social workers, and so many other public sector workers have devoted their careers to making life better for their fellow New Yorkers. We cannot in good conscience assist in underwriting the catastrophic loss of life and environmental ruin that would result from a nuclear conflict.' Councillor Helen Rosenthal
Impact of NYC nuclear weapons divestment
This action on the part of New York City would serve as a positive example that can be replicated by cities and other investors to align their investments with ethical values. It would give support to federal initiatives to cut nuclear weapons budgets, such as the SANE Act introduced into the U.S. Senate by PNND Co-President Ed Markey and the Nuclear Weapons Abolition and Economic and Energy Conversion Act, introduced into the U.S. House of Representatives by PNND Member Eleanor Holmes-Norton.
The Hearings
The public hearings on Thursday were run jointly by Council member Daniel Dromm and Council member Fernando Cabrera, chair of the NYC Committee on Governmental Operations. They included testimony from a wide range of New Yorkers and civil society organizations, including from labour, education, academia, finance, health, religious and law sectors and from communities impacted by the production, testing and use of nuclear weapons. Witnesses stretched in age from 19-90. Click here for a video of the testimonies.
As the public hearings opened on Thursday, the two measures were one-vote short of a veto-proof majority. By the end of the hearings, Council Member Fernando Cabrera had affirmed his support thus ensuring the required votes for adoption. As such, it looks fairly certain that the measures will be adopted.
New York Administration resistance addressed by Move the Nuclear Weapons Money
One unresolved issue from the hearings is which city department would oversee the implementation of the two measures. Another issue is what resources, including budget, would be required for implementation and from where these would come.
The New York City administration was represented byMs Penny Abeywardena, New York City's Commissioner for International Affairs, who argued that her department (the Mayor's Office for International Affairs) had neither the resources nor the mandate to implement the measures if they were adopted. She argued that her department was responsible for building good working relations between NY City and the United Nations, educating youth about the United Nations, and reporting to the UN on NYC's implementation of the Sustainable Development Goals, but not to engage in national security policy or international disarmament which was the mandate for the Federal government – not the city.
Mr Jonathan Granoff, representing Move the Nuclear Weapons Money, responded in his oral testimony that the remit from these resolutions was not that the City engage in advocacyat the United Nations, but rather to implement obligations arising from the UN that are applicable to cities as well as to federal governments. This is exactly what her department is doing with respect to SDGs, and is what they have a mandate to do for nuclear disarmament.
'The very first resolution of the United Nations, which was adopted by consensus, affirmed a universal commitment to abolish atomic weapons and other weapons of mass destruction, and this is further affirmed as an obligation in the Non-Proliferation Treaty ,' said Mr Granoff, who is also President of Global Security Institute and an internationally respected lawyer.
Ms Abeywardena, in outlining her department's commitment to the UN Sustainable Development Goals, seems to be unaware that SDG 16 includes the obligation to implement such international law at all levels of government, including at city level. As such, the Commission on International Affairs does indeed have the mandate to implement these measures if and when they are adopted.'
With regard to the human resources required to implement the measures, Mr Granoff agreed with Ms Abeywardena that her commission and the City Council did not have much expertise on nuclear weapons. 'This is exactly why an advisory committee is required – to provide that expertise, and that expertise is here in this room, and you can have our expertise for free. The only resource standing in the way of getting rid of nuclear weapons is emotional, spiritual and political will.'
Click here for the oral testimony of Mr Granoff.
Click Here for the written testimony of Mr. Granoff
Click here for the written testimony of Move the Nuclear Weapons Money, which includes experience of nuclear weapons divestment by cities, pension funds, sovereign wealth funds and other investors from around the world.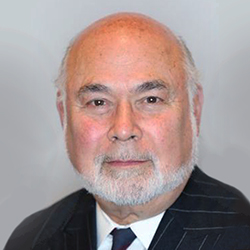 Jonathan Granoff is the President of the Global Security Institute, a representative to United Nations of the World Summits of Nobel Peace Laureates, a former Adjunct Professor of International Law at Widener University School of Law, and Senior Advisor to the Committee on National Security American Bar Association International Law Section.