(June 19, 1914-December 31, 2000)
A Statement by the Global Security Institute
January 1, 2001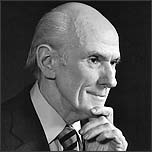 Senator Alan Cranston died standing up.
While preparing to start a new day, the 86 year old father, grandfather, friend, and leader passed away standing at his kitchen sink on the morning of New Year's Eve, gracefully exiting at the dawn of the new millennium.
The staff, board, and friends of the Global Security Institute, which he founded to further the cause of the total elimination of nuclear weapons, will deeply miss his wit, vision, strength and unwavering determination.
Alan Cranston used as a guide for leadership a quote by the Chinese philosopher Lao-Tzu, which he carried in his wallet for years:
A leader is best
When people barely know
That he exists,
Less good when
They obey and acclaim him,
Worse when
They fear and despise him.
Fail to honor people
And they fail to honor you.
But of a good leader,
When his work is done,
His aim fulfilled,
they will all say,
'We did this ourselves.'
Those who knew him and worked with him remember his utter humility and complete commitment to the task at hand.
Alan Cranston looked with hope toward the future. We reaffirm our profound commitment to completing the work that he began; our work continues undiminished and strengthened by his memory. We hope you will join with us in honoring his memory by helping complete the task.
Alan Cranston did not want honor for himself, but honored life itself by serving the cause of peace. We shall follow in his large footsteps.
Obituary
Former US Senator Alan MacGregor Cranston, the only Democratic Representative from California to serve four consecutive terms in the Senate, died December 31st, 2000 at his Los Altos Hills, California home. Senator Cranston, who set a world sprint record at the age of 55 and overcame prostate cancer in the early 1990s, was 86 years old.
Born June 19th, 1914 in Palo Alto, California, Alan MacGregor Cranston was the younger of two children born to William MacGregor Cranston and his wife, Carol Dixon. William Cranston, a wealthy, second-generation real estate developer, secured good education for his children despite the trials of the Great Depression. Alan Cranston graduated from Mountain View High School in Los Altos as a track star and entered Pomona College before transferring to Stanford University. A standout on that university's champion track team, Cranston gained national attention as a relay runner and sprinter who regularly took the 100-yard dash in under 10 seconds. Majoring in journalism, Cranston graduated Stanford with a bachelor's degree in 1936 and landed his first writing job with the International News Service (now the United Press International).
Though Cranston spent only two years as a field journalist and foreign correspondent, they were served during a time of global unrest. Cranston traveled throughout Europe and Northern Africa, covering the activities of Hitler and Mussolini, and returned to America to find most of the nation unaware of the threat abroad. Cranston attributed much of the American public's misperceptions to a version of Hitler's "Mein Kampf" which had been much edited in translation. Having read the original German version which openly espoused Hitler's Aryan ideals and the plans and motives that were behind the dictator's Third Reich, Cranston took it upon himself to draft a word-for-word translation of the book, which was published through an agency of William Randolph Hearst. Cranston released his version at a cover price of 10 cents and sold over 500,000 copies of the Furhrer's book (which included Cranston's own comments against Naziism) before Hitler successfully sued him for copyright infringement and unauthorized revision.
Cranston left journalism to enter public service in 1942 when he became chief of the foreign language division of the Office of War Information. After two years in the intelligence division, Cranston waived his office to enlist in the US Army as a private, and served until the end of World War II with an infantry division. After receiving his war end discharge with the rank of sergeant, Cranston returned to civilian life and his wife Geneva. The Cranstons had two sons, Robin and Kim, while he worked on a cautionary book detailing the defeat of the League of Nations. Cranston's book, The Killing of The Peace, was released with his hope that it would build support for the United Nations. An advocate for a world government and the eventual abolition of nuclear weapons, Cranston devoted much of his life and political career to improving international relations and stumping for nuclear disarmament.
Cranston assumed leadership of his family's real estate business, but reentered public service in 1959 when he was elected California's state controller. Serving as controller from 1959-67, Cranston won his first election to the US Senate in 1968, where he demonstrated early in his career an eerie accuracy in predicting his peers' vote results. Serving four consecutive terms at the Senate, Cranston was recognized throughout his career as a top-notch, bipartisan fundraiser and a tireless campaigner for his primary causes, which included nuclear disarmament, civil rights, and environmental issues. Cranston was an early advocate of ending the war in Vietnam, and championed journalists in 1973 when he introduced legislation that secured the right of reporters to keep their informants' identities confidential. Cranston authored or co-authored numerous pieces of legislation, including the Cranston-Gonzales National Affordable Housing Act (1990) and the California Desert Protection Act (enacted in 1993). During his near quarter century on Capitol Hill, Cranston served as the Majority Whip for 14 years, and after Republicans ruled the senate as Minority Whip for two years.
Cranston was as well known by his fellow Representatives for his disciplined, lifelong athletic regime, which included his much touted healthy foods diet and regular jogging. The Senator from California proved his practices paid off when at 55 he set a world record in the 100-yard-dash, his old college event, for seniors. Though Cranston's career flourished, he suffered many personal losses. In 1969 his wife Geneva suffered a stroke and later left Washington to recover in Palm Springs. They were later divorced. In 1980, Cranston's oldest was killed by an automobile. Cranston's second marriage to Norma Weintraub ended in 1989 after 11 years.
In 1984, Cranston made a bid for the Democratic Convention Nomination for the presidency. The nomination went to Walter Mondale, and the election to incumbent Ronald Reagan, who opposed most if not all of Cranston's arms and military spending views. In the late 1980s, after more than two decades of service in the Senate, where he had been heralded for his fundraising successes and his political and personal integrity, Cranston faced reprimand by a House Ethics Investigation Committee in the wake of the Savings and Loan Scandal. Cranston, who had accepted some $1 million in contributions from a constituent, Charles H. Keating Jr, the head of Lincoln Federal Savings and Loan Association, was one of a number of Representatives labeled "The Keating Five" and the only one to receive a formal reprimand in 1991. Cranston defended his conduct and later became a strong advocate of campaign finance reform. He was eventually diagnosed with prostate cancer, leading him to announce that he would not seek a fifth term of office.
Cranston left the Senate in 1993, and after successfully battling his cancer continued his crusade for nuclear disarmament and improved international relations in the social profit sector. In 1996 Cranston teamed with former Soviet Premier Mikhail Gorbachev as the chairman of the Gorbachev Foundation/USA, a San Francisco based think-tank seeking nuclear disarmament. After serving five years as Chairman of the Gorbachev Foundation/USA and the State of the World Forum, Cranston founded the Global Security Institute, a non-profit organization leading the international quest to abolish use of nuclear weapons.
Alan MacGregor Cranston was discovered in his Los Altos, California home on the morning of December 31st, 2000 by his son Kim. He died of natural causes not related to his previous bout with cancer. Alan MacGregor Cranston is survived by his son Kim, his sister Eleanor Cranston Cameron, and his granddaughter Evan.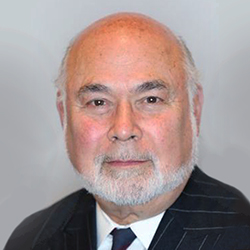 Jonathan Granoff is the President of the Global Security Institute, a representative to United Nations of the World Summits of Nobel Peace Laureates, a former Adjunct Professor of International Law at Widener University School of Law, and Senior Advisor to the Committee on National Security American Bar Association International Law Section.