June 30, 2004
Dear Friends:
It is hard to believe that it will be five years ago this November when my father, Alan Cranston, called his friend Mikhail Gorbachev and asked him to be the first member of the Global Security Institute's Board of Advisors. With President Gorbachev's enthusiastic Yes!, GSI set out to assemble a team of top experts and international leaders to work for the global elimination of nuclear weapons.
To celebrate our upcoming fifth anniversary, I am pleased to announce the release of The Sovereignty Revolution, a book my father completed just before he died at the end of 2000. I edited the final manuscript, and worked with Stanford University Press to include contributions from GSI advisors Dr. Jane Goodall and Mikhail Gorbachev, GSI president Jonathan Granoff, and noted author Jonathan Schell.
Global attention is now galvanized on the subject of sovereignty, not only in Iraq but also in Kashmir, Israel and Palestine, and numerous other hot spots. My father focused on sovereignty because, he wrote, "issues of sovereignty are involved in one way or another in all the 40 savage conflicts raging today upon this turmoil-torn planet."
My father didn't live to witness the horrors of September 11th and the terrible "war on terror" in Iraq and elsewhere that now consume our lives. But he did predict them. And he did suggest solutions. I only wish more of our leaders had listened.
With respect to my father's final warning, we must ensure that our leaders listen now:
The creation of nuclear weapons and their proliferation into many hands is the most ominous fact that emerged from the unflowered carnage and unforgotten sorrow entombed with the remains of the twentieth century. It separates today and all the tomorrows from all the yesterdays. Wars once had their limits. Despite whatever horrors humans experienced through the centuries, they have always been able to say, 'Life goes on.' That may no longer be an accurate assessment of the human condition.
It is our job, as parents, as business people, and as concerned citizens, to ensure that life does go on.
We cannot permit international security and the nuclear non-proliferation regime to further erode. What could be more hazardous than resuming nuclear testing, building new "usable" nuclear weapons, and disregarding treaty commitments on which the world depends? GSI is vigorously campaigning to strengthen the non-proliferation and disarmament regime through several result-driven programs.
With nearly a five-year track record, GSI has made some remarkable contributions. We have consulted and advised foreign ministry officials from scores of countries, members of parliament from around the world — especially Members of Congress on key committees — and public leaders, including Nobel Peace Laureates.We have earned the trust and partnership of governments and proven ourselves effective and respected in Washington. GSI's advice and recommendations are often followed by leaders and decision-makers at the highest levels.
Over the coming months, GSI's Washington, D.C.-based team of former diplomats, senior officials, and experts will continue to work with Members of Congress to ensure that our tax dollars are not squandered on new nuclear weapons. Internationally, we will work with officials in many countries such as Germany, Belgium, Canada, Brazil, Mexico, and New Zealand to strengthen global efforts to rid the world of nuclear weapons.
Our struggle is a long one. The work will not be done in a year, or in a decade. It will take time. GSI is committed to the long run. Our staff is young and energetic. Our leaders are seasoned and experienced. Our will is strong, our conviction firm.
I am asking you to say Yes! to GSI, like President Gorbachev did five years ago. I'm asking you to join us in taking a big step forward, even at a time when you and I both are focused on the importance of this election year. I'm asking you to make a considerable investment this year, and a pledge of support for the next five years, to help us lay the groundwork for the next decade.
I'm asking you to think big with us. I'm asking you to make a real investment in us, for your family, for my family, and for families you've never met in parts of the globe you've never seen. Maybe for you, that investment will mean $1,000, or $5,000, or more.
Now is the time when we must say to our leaders, weapons of terror have no place in our world! If we don't act now, the window of opportunity may close forever. All our tomorrows and all our yesterdays could disappear. Let ours be the generation that preserved the future for all generations.
Many thanks for doing everything you can to support GSI's good work, and for all your good deeds.
Always,
Kim Cranston
Chair of the Board
P.S. In appreciation of your generous gift to the Global Security Institute, it would be my pleasure to send you a signed copy of The Sovereignty Revolution with my deep gratitude.
"The Sovereignty Revolution, finished shortly before his death, gives voice to his visionary understanding of how to create a world with more friends and fewer terrorists."
—PRESIDENT BILL CLINTON
"This analysis—by the former U.S. Senator and world statesman—provides clarity on problems that have become important after 9/11, and will remain important in our quest for world peace."
—PRESIDENT JIMMY CARTER
"This slim but powerful volume is a testament not only to Senator Cranston's impassioned labor as a scholar and statesman, but to his hopes, shared by many at the beginning of the twenty-first century, for a more rational and ethical world order."
—OSCAR ARIAS SANCHEZ
Winner of the Nobel Peace Prize in 1987
"Alan Cranston's insights are the result of a lifetime of study and passionate struggle for a safer world. He was focused, tenacious, and a champion for human rights. In this final essay, he makes an enormous contribution to current foreign policy debates."
—NANCY PELOSI
Democratic Leader of the U.S. House of Representatives
"The Sovereignty Revolution addresses critical issues that command public attention today—globalization, terrorism, the environment, the threat of war—and offers a comprehensive framework for understanding and resolving them. Senator Cranston boldly calls us to be citizens of the world as well as of our nation."
—DAVID CORTRIGHT
President of the Fourth Freedom Forum
"The Sovereignty Revolution is the last testament of a senior U.S. statesman on the need for rethinking the international rules and organizations we have set up for our mutual security."
—SCOTT D. SAGAN
Director of the Center for International Security and Cooperation
and Professor of Political Science, Stanford University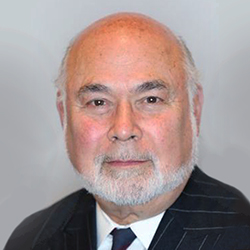 Jonathan Granoff is the President of the Global Security Institute, a representative to United Nations of the World Summits of Nobel Peace Laureates, a former Adjunct Professor of International Law at Widener University School of Law, and Senior Advisor to the Committee on National Security American Bar Association International Law Section.