The Global Security Institute is very pleased to announce James Martin, Pulitzer-prize nominated author and world renown technology innovator and consultant, as our newest member of the GSI Board of Advisers. As one of the world's foremost information technology experts Martin brings an expertise on the implications of global technological advancements and their effect on global security matters.
Martin's career in information technology spans over 50 years where he has authored over 100 textbooks and other media on computer science including Pulitzer Prize nominated "The Wired Society: A Challenge for Tomorrow" (1977), which is recognized for its accurate predictions about computer technology. As a lead developer of Computer-Aided Systems Engineering (CASE), Martin also helped create the tools that automate software development. In the 25th Anniversary of Computer World Magazine, Martin was recognized as fourth amongst individuals that have most-influenced computer science.
Martin's work has also focused on addressing crisis associated with global transformations. His most recent book, which is also the subject of a documentary, "The Meaning of the 21st Century" addresses the changes in civilization required to cope with the existential problems faced by humankind.
Martin has been active in promoting the study of topics that address global crisis and their solutions. In 2005 Martin founded what is now the Oxford Martin School at the University of Oxford, which encourages researchers to work together in innovative ways to address future challenges. Its mission is to utilize integrated scholarship across a range of disciplines to identify research and find solutions to the biggest challenges facing humanity in the 21st Century.
In this light, Martin has personally focused on the topic of nuclear weapons. He is a Senior Fellow of the James Martin Center for Non-Proliferation Studies in the Monterey Institute. The James Martin Center for Non-Proliferation Studies is dedicated to research training, and disseminating information that helps curb the spread of Weapons of Mass Destruction. It is also the largest non-governmental organization in the United States devoted exclusively to research and training on non-proliferation issues. In this capacity, Martin uniquely joins the ability to recognize political transformations with definitive insights on the technological solutions required to address them. Dr. Martin's next book The War and Peace of the Nuclear Age promises to influence the international debate in favor of the elimination of nuclear weapons.
Martin is also a Fellow of the World Academy of Art and Science, He has a D.Litt from Oxford University, and honorary doctorates from all six continents.
For more information, visit the James Martin personal website.
View the full list of GSI's Board of Advisers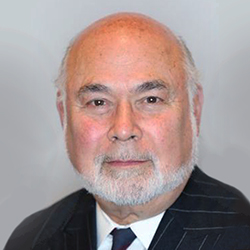 Jonathan Granoff is the President of the Global Security Institute, a representative to United Nations of the World Summits of Nobel Peace Laureates, a former Adjunct Professor of International Law at Widener University School of Law, and Senior Advisor to the Committee on National Security American Bar Association International Law Section.