After the Senate acquitted him, Donald Trump and his political adherents pose a more serious threat to democracy than ever. Trump has lost no time in declaring victory, raising money, wielding influence, and consolidating power. He is already looming large over the midterm elections and will soon start vetting 2022 candidates. In recent days at Mar a Lago, he hosted high-priced fundraisers and met with his former campaign manager and with House Minority Whip Steve Scalise (R-La.). He is speaking at the Conservative Political Action Conference, and his senior adviser (and daughter-in-law) Lara Trump now says he's thinking of recapturing the White House in 2024.
Could Trump really become president again after the events of Jan. 6? The 14th Amendment to the Constitution directly addresses that question in a way that impeachment does not.
In the impeachment trial, 43 Senate Republicans overlooked Trump's obvious culpability and voted to acquit him on the ground that impeachment, as Sen. Mitch McConnell (R-Ky.) said, is "a narrow tool" that can remove a sitting president from office, not try him as private citizen once he's left. That argument let McConnell prevaricate, arguing both that Trump was responsible for the insurrection and that convicting him would have been wrong. Trump "didn't get away with anything yet," McConnell assured us and punted to redress in the courts.
But Trump's political resurgence looks a lot like impunity. It's therefore urgent to hold him accountable under the Constitution.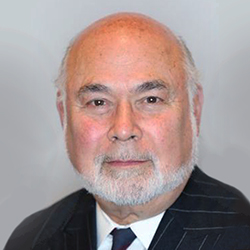 Jonathan Granoff is the President of the Global Security Institute, a representative to United Nations of the World Summits of Nobel Peace Laureates, a former Adjunct Professor of International Law at Widener University School of Law, and Senior Advisor to the Committee on National Security American Bar Association International Law Section.