We are excited to announce a new book, Recovery: Peace Prospects in the Biden Era, from our long term associate, and Chairman Emeritus of GSI's Middle Powers Initiative, Senator Douglas Roche.
Douglas Roche, OC, KCSG is a Canadian author, parliamentarian, diplomat and peace activist who has specialized throughout his 40-year public career in peace and human security issues. Roche served as Progressive Conservative Member of Parliament (MP) and in 1984 was appointed Canada's Ambassador for Disarmament. He was appointed to the Senate of Canada on September 17, 1998, where he served until June 13, 2004. He was appointed Chairman of the United Nations Disarmament Committee at the 43rd General Assembly.
In 1995, Pope John Paul II presented him with the Papal Medal for his service as Special Adviser on disarmament and security matters, and in 1998 the Holy See named him a Knight Commander of the Order of St. Gregory the Great.
In 2018, he was recognized by the International Peace Bureau as one of three recipients of the Seán MacBride Peace Prize. He is an Officer of the Order of Canada.
In Recovery: Peace Prospects in the Biden Era, Roche explains what the Biden Administration could mean for the triple emergencies of climate change, nuclear weapons, and COVID-19. He sees Biden as a pragmatic idealist who is well-positioned to introduce a new era of hope and cooperation to the United States and the world.
He also speaks to the history of nuclear weapons, the new global treaty that seeks to ban them, and the mistake that Canada made in boycotting the negotiations. He advances an optimistic, achievable vision for improving Canada's role and standing on the international stage.
Click here for more information and to purchase.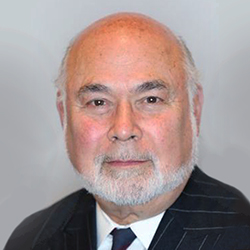 Jonathan Granoff is the President of the Global Security Institute, a representative to United Nations of the World Summits of Nobel Peace Laureates, a former Adjunct Professor of International Law at Widener University School of Law, and Senior Advisor to the Committee on National Security American Bar Association International Law Section.