On September 21, 2019, Nobel laureates and experts gathered for a series of panels, as a part of the annual World Summit of Nobel Peace Laureates in Meridá Mexico. The subject of our first featured panel is "four Priorities for Nuclear Disarmement," It was moderated by GSI President Jonathan Granoff, and featured former President of South Africa F.W. De Klerk, President of the Pugwash Conferences Sergio Duarte, co-founder and past president of Physicians for Social Responsibility and co-president of the International Physicians for the Prevention of Nuclear War Ira Hefland, and other distinguished guests. The panel was opened with a special message for President Mikhail Gorbachev.
The second panel was "The Power of Law vs. The Law of Power." Featured speakers included former President of South Africa, F.W. De Klerk, former President of Portugal and former President of the European Commission Juan Manuel Borroso, Lord David Trimble from Northern Ireland, GSI President Jonathan Granoff, Iranian Nobel laureate Shirin Ebadi, and others.
To watch the entire panel on Facebook please click here. Or enjoy key excerpts below:
Subscribe
Paths to Inner and Outer Peace: With Jonathan Granoff and Gwendolyn Zoharah Simmons
Orchestrating Global Synergies for Climate Action and SDGs - Uniting Hands, Voices, and Visions
Peter Yarrow Sings "Blowing' in the Wind" on Nuclear Prayer Day 2023
Celebrating Gandhi's Birthday: International Day of Non-Violence 2015
The Love Imperative
Gary Shapiro, CEO of the Consumer Technology Show and Jonathan Granoff: "Tech and Human Security."
Adena Friedman, President of Nasdaq and Jonathan Granoff: "Reimagining the 21st Century Economy."
World Water Day 2023: The United Nation's Relationship to Water
Faith-Based Human Security: Each of us is a Whole, Integral Human Being
The Many Dimensions of Human Security From the Deepest Personal to the Global
The Alan Cranston Peace Award 2005: Honoring Ted Turner
Global Connections TV with Bill Miller: What is United Religions Doing to Save the Planet?
Global Connections TV With Bill Miller: Why Nuclear Weapons are a Major Threat to People Worldwide
Former US Secretary of Defense Dr. William Perry: Nuclear Weapons and Human Survival
Global Connections TV with Bill Miller: The Threat of Nuclear Proliferation and Nuclear Weapons
Parliament of the World's Religions: "The Future of Religion and Spirituality"
Jane Goodall at Oxford Union: Realistic Human Security Principles & Policies for the Planet
International Day of Non-Violence: Celebrating the Example and legacy of Mahatma Gandhi
Association of Foreign Press Correspondents in the USA: "Consequences of the Russian Invasion"
A Conversation With Deepak Chopra: "Growing Up in the Heart of American Culture"
A Conversation With Deepak Chopra: An Urgent Call to Save Our Humanity
ABA: A Dialogue on Matters That Matter with The Right Honourable Kim Campbell
ABA: Responding to Humanity's Greatest Threats — A Dialogue with Gov. Gerry Brown
The Timeless Wisdom of MLK and Human Security Today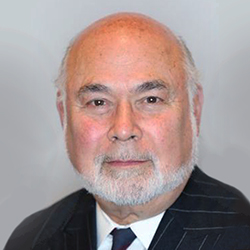 Jonathan Granoff is the President of the Global Security Institute, a representative to United Nations of the World Summits of Nobel Peace Laureates, a former Adjunct Professor of International Law at Widener University School of Law, and Senior Advisor to the Committee on National Security American Bar Association International Law Section.