The failure of the major powers to overcome their narrow, short-term interests has crippled the UN's ability to enforce the peace and security of the world.
by Douglas Roche, O.C.
This article was originally published in Embassy magazine, September 17, 2014. Special thanks go to Jim Creskey, Editor, for his courtesy in permitting us to share the article.
Outside, the headlines blared the new war on the ISIS extremists in Syria and Iraq, but inside the United Nations headquarters in New York, the focus was on building a culture of peace and forging an agenda to wipe out the worst forms of poverty by 2030.
Destroy. Create.
The tensions inside me were fierce as I watched debates play out in the one place charged by international law to protect the peace and security of the world.
The speeches were exhortatory. It was like standing on a mountain and reveling at the sight of the green fields below. But, at the same time, people over the horizonwere being slaughtered by barbarians who have not the slightest regard for elementary humanitarian law.
For three days, I watched UN Secretary-General Ban Ki-moon open various meetings with words of encouragement, while he himself and the world body he represents were being completely ignored by United States President Barack Obama and the other kingmakers as they formed a new coalition to rout Middle East extremists.
Continue reading the article on the Middle Powers Initiative website.
Former Senator Douglas Roche's latest book is Peacemakers: How People Around the World are Building a World Free of War. He serves as Chairman Emeritus of the Middle Powers Initiative, a program of the Global Security Institute.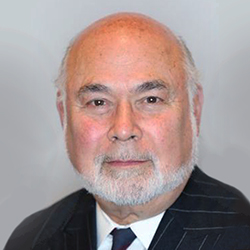 Jonathan Granoff is the President of the Global Security Institute, a representative to United Nations of the World Summits of Nobel Peace Laureates, a former Adjunct Professor of International Law at Widener University School of Law, and Senior Advisor to the Committee on National Security American Bar Association International Law Section.