Photograph: ©Joel S Photo LLC
On 17 and 18 February, Jonathan Granoff, President of the Global Security Institute and a Council Member of the Parliamentarians for Nuclear Nonproliferation and Disarmament (PNND), represented PNND at the Inter-Parliamentary Union (IPU) Hearings at the United Nations. (Photo above ©Joel S Photo LLC)
Mr. Granoff addressed the Assembly three times, and in addition, presented a submission on behalf of PNND, "Political Support and Inclusive Responses to Sustainable Recovery" — which can be found below.
PNND is an international cross-party association of parliamentarians devoted to preventing nuclear war, stopping the spread of nuclear weapons, and advancing diplomacy and international law to obtain the security of a nuclear weapon's free world. PNND has Observer status at IPU and has more than 500 member parliamentarians from 90 countries, including both nuclear-armed and non-nuclear. Global Security Institute is its fiscal sponsor. 
The Inter-Parliamentary Union (IPU) is an international organization of national parliaments. Its primary purpose is to promote democratic governance, accountability, and cooperation among its members and facilitate the development of international law and institutions, including the Permanent Court of Arbitration, the League of Nations, and the United Nations. It also sponsors and takes part in international conferences and forums and has permanent observer status at the United Nations General Assembly. Consequently, eight individuals associated with the organization are Nobel Peace Prize laureates.
In a joint letter of invitation to the Interparliamentary Union (IPU) Hearing, the President of the UN General Assembly H.E. Abdul Shahid and the President of the IPU H.E. Duarte Pacheco eloquently stated:
"As we have seen during this global pandemic, "business as usual" is not an option for decision-makers such as members of parliament intent on finding solutions to the multiple challenges and crises all around us. Urgently needed is a drive to recovery efforts on all fronts — social, economic, and environmental — and a critical perspective on the policies of exclusion against women, youth, and other groups, of abject self-interest at the expense of the common good, and of the subjugation of nature to economic imperatives that have taken on a life of their own.
Humanity as a whole needs to come together based on a renewed sense of purpose and solidarity. We need to challenge the underlying assumption in the minds of so many that we all live in a zero-sum game in which one's win is another person's loss. As this pandemic reminds us, nobody is safe until everyone is safe. To this, we add: nobody can prosper until we all prosper; nobody is free until we are all free; nobody can lead a healthy life until the entire environment, and the people around us are healthy too."
Inter-Parliamentary Union (IPU) Hearings At The United Nations General Assembly (Session One):
Photograph: ©Joel S Photo LLC
Inter-Parliamentary Union (IPU) Hearings At The United Nations General Assembly (Session Two):
Photograph: ©Joel S Photo LLC
Inter-Parliamentary Union (IPU) Hearings At The United Nations General Assembly (Session Three):
Photograph: ©Joel S Photo LLC
Submission by Jonathan Granoff on behalf of PNND: "Political Support and Inclusive Responses to Sustainable Recovery." Parliamentarians for Nuclear Nonproliferation and Disarmament (PNND) Intervention at the Parliamentary Hearing at the United Nations General Assembly Hall, New York City. General Assembly Hall, 17 and 18 February 2022, New York:
Please accept the gratitude of PNND for this opportunity to share some thoughts on human security as a framework that is being advanced by the United Nations, including by Secretary-General Guterres in Our Common Agenda, in order to adequately address security issues of today and help achieve the Sustainable Development Goals. 
Human Security involves an integrated approach to successfully address gross economic inequity and the burden of suffering caused by poverty, protecting the climate, effectively and justly responding to pandemics, ensuring the health of the oceans and the regenerative processes of the natural world, and resolving international conflicts in ways that meet the security needs of all. A disproportionately national and military approach to security does not meet this challenge. A human security approach integrates the SDGs and serves as a realistic and accurate foundation for solidarity and multilateralism.  
These ideas are integral to Assuring our Common Future, the online parliamentary handbook on disarmament for security and sustainable development jointly released by IPU, PNND, and other partners in November 2020. The handbook includes sections on disarmament, climate, and sustainable development and on Pandemics and disarmament, public health, and economic sustainability, which highlight international cooperative processes, offer recommendations for parliaments and parliamentarians and provide examples of effective policy and parliamentary action. 
PNND and IPU have been organizing a series of global parliamentary workshops on key topics in the handbook, including disarmament, public health, and pandemics on November 9-10 last year and Nuclear disarmament and human security on January 19 this year. The next global parliamentary event on the handbook is on March 10 on disarmament that saves lives: parliamentary action to control small arms and light weapons.
Nuclear weapons and threats of nuclear war thwart global security and consume over 100 billion dollars annually, while budgets for public health, shifting to a climate-friendly economy, and economic development are insufficient. Parliamentarians are invited to endorse Fulfil the NPT: From nuclear threats to human security, which addresses these issues.  
It would be remiss to ignore that although a policy at the very foundation of the United Nations Charter in Chapter V Article 26 is an unfulfilled call for lessening the diversion of human and economic resources for military expenditures, that global military expenditures are around $2 Trillion per year, and that nine nations are spending trillions to modernize and make more usable their nuclear arsenals. The SDGs are inadequately funded, pursued in silos, and desperately need resources such as political will, institutional commitment, diplomatic focus, and economic expenditures. It is a disproportionate emphasis on a security model that does not focus on the very purpose of states – to ensure that their people are free from want, fear, and indignity. It is based on an old Roman empire concept: Prepare for war and thus obtain peace. Is that realistic today? National militarism has a place but not the only place. A people-centered focus on obtaining realistic security must have a prominent place at the table. Human security, its time has come. It is what integrates the SDGs and is needed to address global threats.
The uniquely modern threats to everyone on the planet, such as pandemics, the health of the oceans, protecting bio-diversity, and the very climate itself, cannot be met at the level of nations. These threats require a new level of multilateral cooperation, human solidarity, and a focus on realism, what hard science is informing us rather than ideology. Such a shift in thinking has been urged strongly and clearly by UNDP, the UN Human Security Trust, and most recently by Secretary-General Guterres forward to UNDP's excellent New Threats to Human Security in the Anthropocene: Demanding Greater Solidarity, where he called for the utilization of the concept of Human Security to accelerate the achievement of the SDGs.
The World Academy of Art and Science, along with the Global Security Institute, are working with the UN with a focus on mainstreaming this important dynamic concept that can enhance cooperation and respond to the concern of some nations which view multilateralism as diminishing sovereignty that must be negotiated as a quid pro quo. Human security allows for reframing security whereby all states can successfully address their core function – ensuring the security, well-being, dignity, safety, and health of their people. This does not diminish participating nations but actually enhances their strength. 
When the concept of the modern state as we know it was created in Westphalia in the 17th Century, the impact of today's technology and social organization on the very stability of the regenerative processes of the natural world could not be imagined. Today the way the most influential nations pursue security by brandishing nuclear weapons has reached a logical paradox: the more the weapons are perfected, the less security is obtained. On the other hand, where there is a focus on people, common interests appear quite pronouncedly, and the framework changes. Parliamentarians are well versed in effectively addressing real people's daily life needs. Bringing this perspective into international affairs is needed. Its expression in enhanced multilateralism is not a diminution of sovereignty but is realized as fulfilling its basic purpose – to take care of people.
Parliamentarians hear and feel the real needs of people and are exactly the place where leadership for this necessary shift can be best generated. It is urged, therefore, that human security be part of the framing of issues related to international affairs. It is already the way parliaments address their domestic issues, but today we can and must live with the ancient motto of the Upanishads. The world is one family.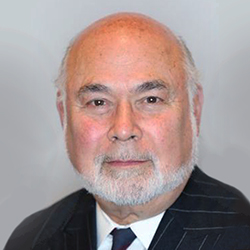 Jonathan Granoff is the President of the Global Security Institute, a representative to United Nations of the World Summits of Nobel Peace Laureates, a former Adjunct Professor of International Law at Widener University School of Law, and Senior Advisor to the Committee on National Security American Bar Association International Law Section.